sally.
Send myc_ a breeding request
sally. is a female Weimaraner born July 24, 2019 and last adopted January 21, 2020.
She is 1 year old.
Personality Profile for sally.
Intelligence
39

91

125
Obedience
48

92

134
Bravery
57

50

152
Agility
57

114

141
Endurance
54

123

143
. ..
LS Weimaraner

.
⇺ Skellington | Frau ⇻
"scene":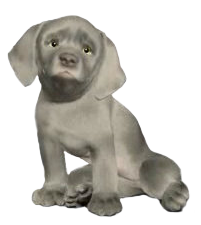 I mean, I got my Skellington so of course I had to have Sally as well. Sally is a sweet girl bit don't cross her. She has quite the soft spot for the man that she stands next to but will also put him in his place if needed. Sally was rehomed to me here by Sandy and Western. Having a complete weim pair fills my heart with joy more than I thought it would. I have always wanted a LS weim on foo but never accomplished it and now I have two! Sally is a 4/5, 470/695, 67.6%, lost by seven in Bravery.

Owned by myc_